NEW MOON REPORT
Nehemia Gordon from Jerusalem, Israel compiled the following New Moon Report for the month of April 2007 and the beginning of the Second Biblical Month.
"On Wednesday 18 April 2007 the New Moon was sighted from Israel.  Roy Hoffman first sighted the moon from Maale Adumim at 19:12 and Bruce Brill first sighted the moon at 19:21 from El-David (near Tekoa)."
The next New Moon, which will be the beginning of the Third Biblical Month, should be visible from Jerusalem near sunset on May 17, 2007.
COMET AND METEOR SHOWER UPDATE
Comet Lovejoy reached a peak magnitude of around 7.4 around April 23, which is well outside the naked eye limit.  The comet is now fading away.  The length of its year is still uncertain so it may not return for centuries or even millennia. 
I have heard no reports on the Lyrid Meteor Shower that peaked on April 22/23.  Since there have been no reports of a spectacular show, I can only assume that it put on its normal or average annual show.
There are no foreseeable spectacular celestial events scheduled for May.  The highlight of the month is the occultation of Saturn on May 14.
OCCULTATION OF SATURN
On May 22, 2007 the moon will occult (pass in front of) the planet Saturn.  This event is not a particularly rare event, but an interesting event to observe.
Chart 437 shows the position of Saturn and the moon at the peak of the occultation just inside the borderline of the constellation Leo (Arieh) the Lion.  As mentioned in previous writings, Arieh the Lion represents the Lion of the Tribe of Judah destroying his enemy the serpent in the portrayal of the war between the woman's seed and the serpent's seed and Saturn represents Satan.
<![if !vml]>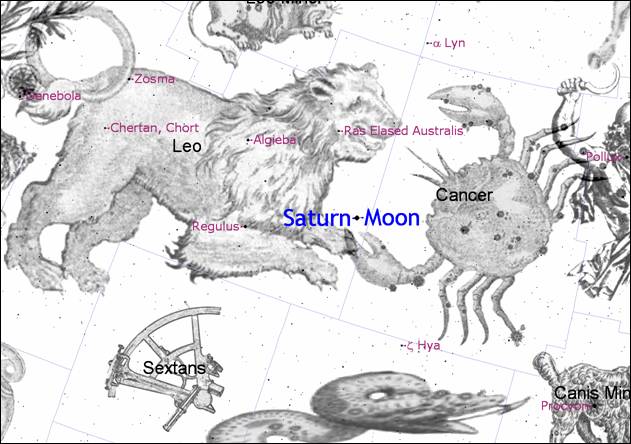 <![endif]>
Chart 437 – Lunar occultation of Saturn as seen from Jerusalem at 11:30 pm on May 22, 2007
At the time of the occultation, the moon will be a waxing crescent moon and will be 39.5 percent illuminated.  This will be seen throughout the Mid-east. Before the occultation the thick crescent moon will be close to the planet Saturn, which will be shinning fairly bright at a magnitude 0.48.  There are certain Muslim cults that see a crescent moon next to a bright planet as a sign of victory over their enemies, but here the victory goes to Judah.  This may or may not mean that anything particular will occur around this time, but is a reminder that Messiah will destroy the enemy nonetheless.
JUPITER AT OPPOSITION
Jupiter (Zedek) will reach opposition and its closest approach to the earth for the year on June 5, 2007. Opposition is when an outer planet reaches a position seen from Earth opposite the sun or 180 degrees from the sun as seen in the diagram below.
<![if !vml]>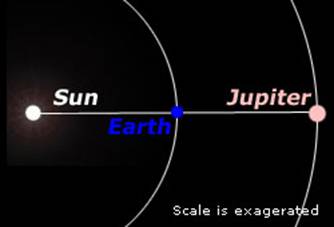 <![endif]>
Chart 438 shows the position of Zedek (Jupiter) in the constellation Scorpio during opposition on June 5, 2007.  Zedek will reach a peak magnitude of –2.60 and will be shinning very bright at this time.
<![if !vml]>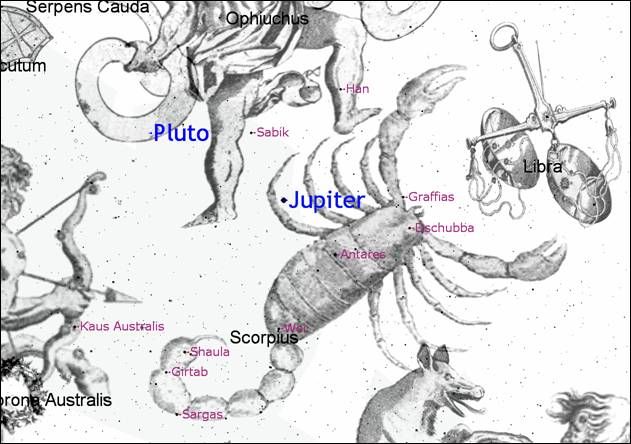 <![endif]>
Chart 438 – Position of Jupiter in Scorpio during its opposition on June 5, 2007
As mentioned in earlier writings, Zedek represents both Yahweh our righteousness and Y'shua (Jesus Christ) who is a high priest forever after the order of Melchizedek (spelling from Psalm 110:4, also see the text in Hebrews 5:6-10).
As also mentioned, Scorpio represents the enemy of the Seed of the woman and its ancient name Akrab means conflict or war.  See the December 2006/January 2007, February 2007 and March/April 2007 issues of Biblical Astronomy for the recent rare celestial events that have occurred in this Sign.
ZEDEK GETTING ANGRY
The planet Zedek (Jupiter) is in the process of undergoing some interesting changes in its atmosphere and how it appears to astronomers as seen from earth through telescopes.  I believe that these are normal atmospheric changes that occur over many years due to storms on the planet but I do not know for sure at this time how normal or rare they are. 
The following article written by Sean Walker is an April 11, 2007 news release from Sky & Telescope.
Jupiter's Tumultuous Changes
"Times, they are a-changin' on Jupiter. The planet is now shining in fine view in the southern sky before dawn, and as first noted earlier this year by amateurs around the globe, Jupiter's familiar dark cloud belts and bright zones are in the midst of a facelift. John Rogers, director of the British Astronomical Association's Jupiter Section, reports that several different latitudes on the planet are showing rapidly developing phenomena.
The new white spots noted on March 29th by Zac Pujic have now spread out within the North Tropical Zone (NTrZ) and the North Temperate Belt (NTeB), disturbing a long swath of the thin, almost invisible NTeB. These spots are bright at all wavelengths from ultraviolet to near-infrared, implying that their cloud tops extend to a high altitude.
The Equatorial Zone (EZ) continues to appear much darker and more turbulent than in previous years, displaying enormous, dramatic plumes and an unusually large, dark Equatorial Band along its center.
The Great Red Spot (GRS) is relatively strongly colored and resides in the newly re-formed Red Spot Hollow — which outlines the famous storm in white, helping to make it appear more prominent than any time in the last decade. If your scope has never shown the Great Red Spot, try again now. (To find the times when the Red Spot will be on Jupiter's central meridian, use our handy Red Spot calculator.)
Meanwhile in the planet's southern regions, Oval BA or "Red Spot Jr." (at the South Temperate Belt) shows no sign of dissipating or turning back to white. Right now a bridge of dark material crossing the South Tropical Zone seems to be interacting with BA, though this is most likely a chance appearance due to them currently being aligned.
Amateurs are encouraged to follow these developments whenever possible. Images may be uploaded to the image archive of the Association of Lunar and Planetary Observers (ALPO). Browse the archive to compare people's pictures to what you've observed!"
The following is an interesting note on the name Jupiter from Mazzaroth by Frances Rolleston in the Addenda, The Planets.
Jah, corrupted into Ja, offers no difficulty to the Bible student.  "Praise Him in His name Jah," will occur in every one such.  Pether, or Piter, to open as a gate, as a line of descent, whence Pater and Father in modern languages, to set free.  "Setting free" originates a stream of water of a course of events; and the line of a pedigree is originated by the father, man by Adam, the Jews by Abraham.  So Pater may be referred to the Hebrew root Pater, whence "Pater," Latin, &c.  One meaning of Zedek, the Oriental name of Jupiter, is to set free by justifying.
My note:  We are justified freely by his grace through the redemption that is in Messiah Y'shua, Christ Jesus.  (Romans 3:24)
BIBLICAL ASTRONOMY SEMINAR
A Voice Crying in the Heavens
with Robert Scott Wadsworth
Friday May 11th, 7 PM to 10 PM Saturday May 12th, Noon to 6 PM
At the American Legion Hall
190 N Cache Ave
Jackson Hole, Wyoming
Doors will be open one hour prior to the seminar on each day.   There is no cover charge. Refreshments will be served.  An offering will be made available for those who wish to support the ministry.
Please call JJ to RVSP at (307) 699-0544
SUBSCRIPTION RENEWALS
Next month's issue of Biblical Astronomy, June 2007, will be the last issue for this current subscription year.  To subscribe to the postal version of the newsletter for the July 2007 to June 2008 subscription year, please send a check or money order for $25.00 for U.S. subscribers, $30.00 for Canadian subscribers, and $35.00 for overseas subscribers to:
Biblical Astronomy
P.O. Box 2272
Oregon City, OR 97045
It is now available to order the newsletter and other Biblical Astronomy products online using PayPal, which also allows you to pay via your credit card.  Just click on the Products section and put the items you want in a shopping cart, then go to check-out.
For Online Subscribers – Starting in July, there will be a $12.00 per annum fee charged for those who view the current subscription year of Biblical Astronomy online.  All of the archived newsletters will still be free for all to view except for the current subscription year.  The subscription year runs from July of one year to June of the next.  I need to charge this fee to help provide much needed finances to the ministry.  It amounts to just $1.00 per month.  It will be available in late June or early July to subscribe to the online newsletter via the website.  The newsletters will also be put into a PDF format to help make them  printer friendly.
Online Book – I also have plans to put the third edition of A Voice Crying in the Heavens on the website.  I will make it available to view the book while it is under construction for a one-time fee of $10.00.  I will be adding to it weekly or monthly.  That fee will give you access to the online book even after it is finished.  After the book is finished, there will be a $20.00 fee for access to the book for all who have not up to that time subscribed to it.  Hopefully this will go a long way in raising the $50,000 I need to publish it in hardcover book form.
PRAISE YAHWEH!!! MICHELE IS BACK!!!
I lost contact with Michele Abraham in January and she has been in my prayers ever since.  I received a phone call from Michele in early April.  She is now working for Michael Rood's ministry in Jefferson, Oregon.  Michele is doing great and has agreed to start doing the constellation pictures again.  She has all the equipment that she needs for this massive project and hopes to start back at it soon.  At present she is doing this project without financial recompense.  I hope to raise enough money from those who subscribe to the newsletters and online book so that this ministry can give to her financially for all her hard work. 
Michele and I work together via phone and e-mails on how the constellations should appear and at times she draws out two or three pictures to get the picture with the right balance.  So far we have about 1/3 of the constellations finished and about 32 more to go.
My many thanks to the subscribers of Biblical Astronomy for your support in prayers and financial gifts.  I have definitely been spiritually uplifted in the past few months by your prayers.  I look forward to serving you in the coming months.
YAHWEH BLESS YOU RICHLY IN HIS GRACE, MERCY AND LOVE!!!